What You Can Do If You Have a Defective Tree Stand
Injuries due to falling from a tree stand is more common than you may think
By Benjy Schirm, J.D. | Last updated on April 12, 2022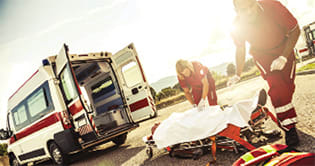 It is estimated that 30 percent of Missouri deer hunters who use elevated tree stands will fall during their lifetime, and 10 percent of hunters who use a hunting stand during hunting sasons are injured annually. While many of those falls end only with bruises and twisted joints, some end with broken bones, neurological injuries or even paralysis.
Timothy Monsees, a personal injury attorny who specializes in hunting-related injury cases, usually in products liability. If you'd like more general information about this area of the law, see our products liability law overview. A products liability case is focused on one of three things:
A design defect that causes a product to be unsafe or a safety risk
A manufacturing defect that causes the product to fail despite an adequate design
A failure to warn consumers of the dangers of using the product
Tree stand safety cases tend to focus on design defects and manufacturing issues, Monsees says. "Most of our litigation is involving some defect in the system that secures a hanger stand that fails once someone is up in the tree sitting in their stand. Or we deal with some metallurgical defect in the ladder causing someone to fall as they ascend or descend the ladder," he says.
There are three general types of stands:
A climbing tree stand, where you walk up a tree like a lineman would do on a telephone pole
A ladder stand, which is made up of metal structures you erect and secure to the tree
A hanging stand, where you climb the tree and hang the stand through cables and straps
Proving a tree stand caused an injury can be difficult. There are many defenses companies employ to prevent recovery. First and foremost, an injured party will have to prove that they weren't negligent in hanging the elevated stand or in following the safety recommendations of the manufacturer. Next, one will have to convince a jury that they deserve compensation for their claim.
"It's hard litigation mainly because, if you're using a firearm and you're hunting 20 feet up in a tree with what looks like a flimsy piece of metal, a big part of the population will presume that you have kind of assumed the risk involved," says Monsees. "We rarely see a true assumption-of-risk defense entered, but it is always something that we have to address because it's what juries have on their minds"
The process of filing a lawsuit can be stressful and taxing, but the important thing to note is that most attorneys work on a contingency fee basis—meaning they don't get paid unless you do. Most attorneys offer a free consultation to discuss your tree stand accident.
"Every single tree stand case we have litigated, either through trial or litigation, we have always successfully collected for our clients," Monsees says. "It may not always be what we were looking for, but we've never gotten skunked on a case."
That said, they can take a long time to resolve. It will involve gathering expert opinion and examining the smallest details.
The best advice you can follow is to consult with a reputable and experienced attorney to make sure that you are getting represented properly and collecting what you deserve. If you have tree stand injuries speaking with a law firm or personal injury lawyer early about a potential product liability claim is wise.
"The tree-stand industry is a very small, close-knit community," Monsees adds. "Almost all the tree-stand manufacturers even use the same defense firm, the same collection of experts. They are covied up to trot out the party line defense every time any of them gets sued."
What do I do next?
Enter your location below to get connected with a qualified attorney today.
Popular attorney searches:
Additional products liability articles
Attorney directory searches
Helpful links
Find top lawyers with confidence
The Super Lawyers patented selection process is peer influenced and research driven, selecting the top 5% of attorneys to the Super Lawyers lists each year. We know lawyers and make it easy to connect with them.
Find a lawyer near you