Planning for Long-Term Care in New Jersey
Things to consider include: Medicaid, LTC insurance and a trustworthy attorney
By Judy Malmon, J.D. | Last updated on June 22, 2022
Use these links to jump to different sections:
Estate planning is not just for the wealthy. Everyone needs to think about how care will be paid for as we approach the end of our lives, and how this may affect our children and grandchildren. No one wants to be a burden and, if possible, we'd all like to pass something on. Hoping for the best is not a plan, and can have devastating effects.
"If you don't plan and something happens, chances are you'll spend hundreds of thousands of dollars on long-term care," says Bridgewater elder law attorney Lawrence Friedman.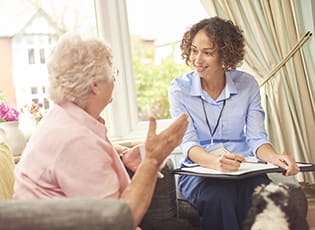 For every year you survive beyond the age of 65, you become statistically more likely to have need for long-term care (LTC). Long-term care services can be anything from in-home care to a skilled nursing facility. Nursing home care and other forms of LTC are costly. In New Jersey, the average cost of long-term care can be $350 per day or more (that's over $10,000 per month) for a nursing home, depending on where you live and the level of care needed.
Long-term care planning is a complicated undertaking, in part because there are many variables and each person's situation has different factors in play, including information you can't know in advance, like when you'll need it. But it's less expensive and easier on your loved ones to plan ahead than to figure things out in a crisis. Working with a reputable estate planning attorney will help you assess your needs.
Medicaid Eligibility
Don't plan to rely on Medicare for LTC, as this program only covers acute needs and maxes out at 100 days. The Medicaid program, on the other hand, is a federal-state jointly funded program, which in the state of New Jersey can pay for long-term care in a nursing home, assisted living facility, or at-home care, but only for those who can no longer care for themselves and who qualify based on income/assets. Working with a qualified elder law attorney, it may be possible to avoid impoverishing your family members and protect a good chunk of your savings but still qualify for Medicaid.
The rules are complicated, but generally, in New Jersey, you may have no more than $2,000 per month income, and assets are capped at $2,000, other than a home (if your spouse is still living in it), plus a few other exceptions. It may be possible to receive some assistance with in-home health care or assisted living expenses with a slightly higher income level.
If you take other recommended steps before you need LTC—such as the transfer of your assets to heirs via a gift, life estate or irrevocable trust—Medicaid takes this into account. When you apply, any transfers made within the last five years will be counted among your resources, and you won't be eligible if what you gave away plus what you still have put you over the limit. You'll be responsible for covering any amount of your care costs until you've "spent down" to the eligibility limit.
LTC Insurance
Another option to consider in LTC planning is insurance. Depending on when you begin your planning, you may be able to secure a long-term care insurance policy that covers your future in-home or long-term care facility costs at a fraction of the actual price, paying a monthly or annual premium. The best time to sign up for this coverage is well before you think you'll need it, ideally in your early-to-mid-50s. You'll need to be assessed as medically eligible, a threshold you're more apt to clear when younger.
"The biggest problem I see with long-term care insurance is by the time people come to me, they're probably uninsurable," Friedman says.
That said, Friedman explains, "long term care insurance can make a lot of sense and provides the most bang for the buck for middle-income people. They probably can't afford a lot of the costs of a nursing home if they don't have long term care insurance, whereas you can if you have several million dollars. It can be an incredible financial hardship if you don't have insurance."
Many estate planning attorneys recommend a combination of Medicaid planning and LTC insurance for their clients as the best protection for their long-term care needs. It's possible to secure an insurance policy to cover up to five years of care, allowing asset transfers to be made without fear of needing LTC before the end of the look-back period. After that, it could be determined if enough funds remain to continue the policy, or whether you would qualify for Medicaid.
"Policies should be priced based on what long term care costs are in your area and how much income you have," Friedman adds.
LTC planning can be both complex and emotionally difficult, but a New Jersey long-term care attorney can help protect your hard-earned resources, health care security, and peace of mind. For more information on this area of law, see our overviews of estate planning, wills, trusts, and probate and estate administration.
What do I do next?
Enter your location below to get connected with a qualified attorney today.
Additional estate planning & probate articles
Attorney directory searches
Find top lawyers with confidence
The Super Lawyers patented selection process is peer influenced and research driven, selecting the top 5% of attorneys to the Super Lawyers lists each year. We know lawyers and make it easy to connect with them.
Find a lawyer near you