What are the Costs of Litigation in Florida?
And other questions you should ask your family law attorney
By Andrew Brandt | Last updated on May 3, 2022
If you're unfortunately headed towards a divorce, it's likely you'll need a lawyer. Perhaps just as likely? You've never needed one before. We spoke with Dori Foster-Morales, a family law attorney and the 2020-21 president of The Florida Bar, about what clients should seek in an attorney, as well questions to ask and red flags to watch out for.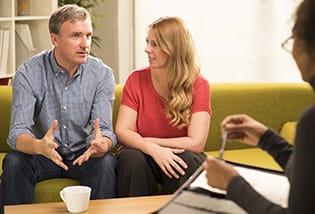 What's the main advice you have for someone looking for a family lawyer for the first time?
Number one, it's really important to get a baseline by meeting with more than one person. It's sort of like your wedding planner; you want to be comfortable with someone. You need to ask questions about your case, not to be afraid, and then see how you are able to communicate with that lawyer.
Every lawyer doesn't have a good fit with every client. Maybe you have a conversation, the lawyer explains the case how they see it. And if the client doesn't like the advice—if you're already bumping heads with strategy—maybe that's not a good fit.
So, don't hesitate ask questions.
Do not be afraid of a dumb question—you're not a lawyer! I don't think I'm intimidating, but I get it: I'm very direct, I'm very assertive. But I don't want people to be nervous—I'm glad when they ask questions. If they don't ask questions, down the road, it always ends up not so great. Most good lawyers would rather have people ask questions.
If you're afraid to ask your lawyer a question, you're with the wrong lawyer.  If you have a lawyer that's not open, you have to be wary of that. I will tell people I don't do flat fee retainers. In my belief, it's a bad idea for the lawyer and client not to have those very honest conversations at the beginning.
If you're going through a divorce, what are some of the questions you should ask your attorney?
How much is it going to cost me to litigate this matter? Do you do a flat fee? What's my likelihood of prevailing? In a divorce, the claim is: What's my entitlement to alimony or child support etcetera. You're really not talking about whether or not you have a good case. The worst thing that can happen, in general, is that you don't understand your risk and reward.
What about red flags?
Is the office organized or disorganized? Did they get back to you in scheduling your appointment? You have to feel like your problem is going to be important to the lawyer and, if at the beginning you feel like you're disregarded—even in scheduling an interview—I would just figure they're either too busy or not interested in your case.
You also just have to feel out how realistic or honest people are being with you. We all have credibility detectors—we know when our kids are lying to us. You want to be wary of someone who is just going to agree with you. … You need real legal advice.  People tell me all the time, 'I don't think that's fair.' And I say, 'Look, for you, fair has to do with your emotional belief. For me, fair is: What would a judge do under Florida law?'
What if you've hired a lawyer and you realize it might not be the best fit?
If you'"If you're in the midst of a relationship with a lawyer and you feel uncomfortable, interview another good lawyer and give them the [overview] of what's going on in your case."re in the midst of a relationship with a lawyer and you feel uncomfortable, interview another good lawyer and give them the [overview] of what's going on in your case. Sometimes you need that second opinion, and don't be afraid to tell your lawyer you're a little uncomfortable. I'm always comfortable with that; I advise people to get second opinions.
The worst thing for your case is switching lawyers a lot. There's no more surefire way to make a judge think there's something wrong with you than if you switch lawyers a lot. You really want to make a good decision early on. You can switch lawyers once without it being held against you, but if you're on your third or fourth lawyer …
Any other advice?
It's a constant communication process, and you need to be honest with yourself and how you think things are going. People in litigation are sometimes not in a good emotional place. So, just because you feel uncomfortable doesn't mean your lawyer is doing a bad job. That's why I always say: Get a second opinion, and talk to your lawyer about it.
If you are considering a divorce, adoption or other legal services, reach out to an experienced Florida family law attorney at a law firm. And if you'd like more information on attorney fees, contingency fees, hourly rates, depositions, arbitration and the litigation process, please see our overview on family law.
What do I do next?
Enter your location below to get connected with a qualified attorney today.
Additional divorce articles
Related topics
Attorney directory searches
Helpful links
Find top lawyers with confidence
The Super Lawyers patented selection process is peer influenced and research driven, selecting the top 5% of attorneys to the Super Lawyers lists each year. We know lawyers and make it easy to connect with them.
Find a lawyer near you