What Matters in a Colorado Contested Custody Battle?
The deciding factors when parents fight for the kids
By Ron S. Doyle | Last updated on February 28, 2022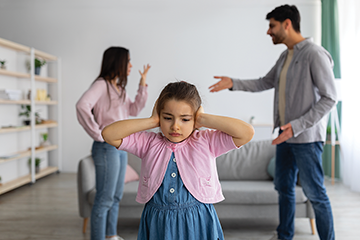 Even in ideal circumstances, parenting is a constant juggling act. Who will take the kids to soccer practice on Tuesdays? Does that rash need medical attention? Are they mature enough to take driving lessons? But when parents split up and cannot agree on what's best for their kids, or when a parent becomes a threat to a child's wellbeing, a challenging situation can become a nightmare. Sometimes turning to the courts is the only option, so knowing how that system works—and what's important—can make a custody fight much easier to navigate.
For starters, it helps to understand the lingo: "We don't use the term 'custody' in Colorado statutes. We call it the 'allocation of parental responsibilities,'" says Kate Lewis, founding partner at Cage Bucar Lewis, a family law and mediation firm in Denver. 
Those responsibilities are divided into two main categories: decision making and parenting time. 
The first deals with major decisions in a child's life, such as where they go to school, religious observances, or what sort of medical care they receive. Those decisions may be made jointly, or one adult may be assigned sole decision-making privileges. 
The second category relates to direct contact time and day-to-day care of the child, which can vary dramatically. In some cases, a child may take turns living with each responsible adult. On the opposite end, a parent may be only allowed supervised phone calls on specific days—or no contact at all.
Colorado law favors frequent and continuing contact with biological parents, whenever that serves the best interest of the child, but a third party can also petition for an allocation of parental responsibilities, says Lewis. That includes grandparents, stepparents, unmarried partners, or any individual who can prove they have standing as a significant caregiver for the child.
The wishes of the child are considered, but determining them can be a complicated and time-consuming process. "Children do not testify in court, and parents are not supposed to talk about what their kids have said, because that's hearsay," says Halleh Omidi, a partner at Hogan Omidi, a family law firm in Denver. Instead, specialists known as Child & Family Investigators and/or Parental Responsibility Evaluators may be assigned to visit homes and assess a child's emotional state, living situation and needs. A child's age plays a role. More mature children may express their wishes directly, says Omidi, whereas younger children are typically observed and interviewed using age-appropriate methods.
Although these situations can feel urgent, Omidi and Lewis both recommend that parents let the legal process play out. "They generally shouldn't move the children out of houses or withhold a child from the other parent without a court order or the grounds to do so," says Lewis. There are times when it's OK to use common sense—for example, not letting a child get into a vehicle with a parent who is drunk—but generally bad actions do not automatically negate the rights of a parent-child relationship.
By far, however, the most common mistake is putting a child in the middle of conflict. Attorneys say disparaging the other parent, or trying to influence the opinion of the child, is often viewed negatively by the courts. Omidi noted a recent case in which a mother initiated a request for exclusive parental rights, but the courts viewed her severe pattern of alienation and disparagement of the father as a form of emotional endangerment—and shifted parental responsibilities to the father instead.
"Parents must prove they can put the needs of a child ahead of their own," says Omidi, "which includes encouraging the sharing of love and affection between a child and the other parent." 
In situations where one party is attempting to restrict a parent from decision-making power or access to a child, Lewis strongly suggests gathering hard evidence. In cases of substance abuse, for example, take photographs of liquor bottles or drug paraphernalia in the home environment. Make copies of records related to DUIs or other criminal cases. "Start collecting evidence before you file, if possible, because once they know you're bringing this up before a judge, they may change their behaviors," says Lewis. 
It's just as important to take an honest look in the mirror. "My last question is often," says Lewis, "what are they going to say about you?"
What do I do next?
Enter your location below to get connected with a qualified attorney today.
Related topics
Attorney directory searches
Find top lawyers with confidence
The Super Lawyers patented selection process is peer influenced and research driven, selecting the top 5% of attorneys to the Super Lawyers lists each year. We know lawyers and make it easy to connect with them.
Find a lawyer near you