What New Legal Issues Are Media Companies Facing?
Telecommunications attorney Peter Schildkraut on how the industry is changing
As told to Andrew Brandt | Last updated on August 4, 2022
I've been practicing for 21 years now, all as part of our telecommunications, internet and media practice. One of the things I've been seeing recently—in terms of technology affecting or creating new legal issues—is the transition of content, programs and other information to the internet as over-the-top services.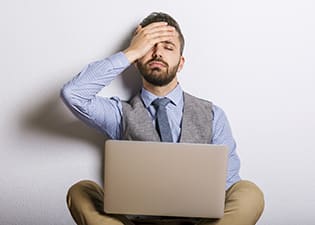 Statistically, as of the end of 2017, 94 percent of Americans had access to service speeds of at least 25 megabits per second download and three megabits per second upload. Over 89 percent of Americans had access to 100 megabits per second download, and 10 megabits per second upload.
Now, 25 megabits per second is fast enough for 4K TV or multiple devices streaming HDTV, while three megabits per second upload service suffices for high-definition video calling, virtual private network platforms and long-distance learning applications. With respect to mobile service … right now, 4G LTE covers the vast majority of the country. And 5G service is just beginning to be deployed. Together, with next-generation satellite broadband service, 5G is going to extend the reach of high-speed broadband networks more deeply into rural America.
This technological deployment has enabled a lot of data-intensive content to become available over the internet; it's the technical reason why we're suddenly seeing services like DirecTV Now, Netflix, Hulu, YouTube TV delivered over the internet. What does that mean in terms of legal questions?
One of them has to do with must-carry. The 1992 Cable Act gave commercial broadcast TV stations two choices for governing the relationships of cable operators: A station could elect must-carry (meaning that the cable operator had to carry the station signal in most cases) or a station could elect retransmission consent (meaning the operator could not carry the station's signal without its consent, which generally came at a price).  
The stations that cable operators feel they have to get to keep subscribers generally have elected retransmission consent. And less-popular stations generally elect must-carry, because they want to ensure that the cable operators actually carry them.
At the time, cable operators had capacity constraints. It wasn't the 500 channels that we're seeing now. Carrying a less-popular broadcast station took away a channel that might instead earn the operator more money. Congress feared that, if the stations were not carried, it would threaten their economic viability and their ability to generate quality local programming. They feared that the substantial minority of households that did not have cable, but relied on over-the-air broadcast television, would suffer a loss of programming.
Cable operators sued, claiming that the statute violated their First Amendment right to decide what programming to carry. The case made its way to the Supreme Court twice. The second time, in 1997, the court upheld the statute. Now that broadcast TV stations reach viewers directly over viewers' high-speed broadband connections, how much would stations be harmed if cable operators dropped them?
The second legal question raised has to do with media ownership. For decades, the Federal Communications Commission (FCC) has limited the ownership of radio and TV stations to promote competition, content diversity and meet the local needs of communities.
The FCC has limited cross-ownership of TV, radio stations and newspapers in the same local markets—and TV stations covering above a certain percentage of US households. Beginning in the 1980s, however, the FCC and Congress began to relax some of these limits. The last time Congress substantially revisited the communications laws, in 1996, Congress directed the FCC to revisit its media ownership rules every four years to see whether they were still consistent with both technological changes, economic realities and Congressional policies.
The FCC has been struggling to revise these rules. In particular, the courts have pressed the FCC for fuller explanations as to how the changes it has adopted fit with the changes in the public media consumption habits and opportunities—and how these changes affect the economics of broadcasting.
There are different questions the courts have been asked … and of particular interest to policymakers and the courts is: If you're allowing stations to pool their resources through common ownership in an area, does that mean they're going to be able to achieve more locally-generated programming? Or does that simply reduce the number of speakers?
That's a difficult question to answer, and the courts have required the FCC to justify its answers often more elaborately than the FCC has done heretofore. The reason the FCC has been struggling with this is that, while it's often continued to try to protect and promote diversity of media ownership, market forces have been pushing in the opposite direction—towards consolidation. The law is unsettled because we know what the internet is doing, but we haven't had a full ruling on its legal implications from the courts.
Those are a number of different ways that changes in technology—and mainly the migration of content to the internet—has changed the potential legal questions in the telecommunications, internet and media space.
If you're involved with telecommunications or media businesses and in need of a lawyer, reach out to an experienced communications attorney today. For more information on the Federal Trade Commission (FTC), tech companies and social media companies, media law, federal law, and privacy law, see our overviews of business organizations and business and corporate law.
What do I do next?
Enter your location below to get connected with a qualified attorney today.
Additional business/corporate articles
Attorney directory searches
Helpful links
Find top lawyers with confidence
The Super Lawyers patented selection process is peer influenced and research driven, selecting the top 5% of attorneys to the Super Lawyers lists each year. We know lawyers and make it easy to connect with them.
Find a lawyer near you