The Quicker, Easier, Cheaper Way to Solve a Business Dispute
Mediation allows all sides to have their say outside the court system
By Nancy Henderson | Last updated on August 3, 2022
Use these links to jump to different sections:
Several years ago, Wrentham attorney Laurence Johnson represented a widow who had inherited her husband's stock interest in the family business. The problem: "The company wouldn't buy her out immediately, and she didn't trust them to keep running the company while she had a stock interest in it," says Johnson.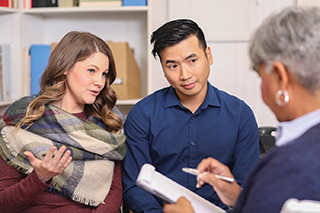 So, at Johnson's suggestion, the parties consulted a mediator, who, after listening to all sides for a day and a half, pinpointed a solution—a phased buyout with periodic payments—that made everyone happy. "It was a very ingenious piece of work," says Johnson, who now focuses solely on mediation himself. "But for the perceptiveness of the mediator, it just wouldn't have happened."
Lawsuits, Arbitration and Alternative Dispute Resolution (ADR)
Suing is certainly one way to settle a beef with a partner, employee or client, but a court battle can wreak havoc on a business owner's stress level and bank account. Mediation—a type of less formal, assisted dispute negotiation—is often a better choice. The goal is to find a solution that satisfies both sides, but it's up to them to follow through. "The mediator does not have any authority to impose any decision on the parties, nor is it the mediator's job to decide who's right or who's wrong," says Loretta Attardo, a Boston and New England-area mediator who primarily handles employment and labor disputes. 
Arbitration is a different animal. While it's still generally less expensive than going to court, it ends with a specific, legally-binding ruling or decision by the arbitrator that both parties must follow. With mediation, the parties maintain control over the end result. 
Another benefit, says Attardo, is that, unlike a remedy dictated by law, the mediated fix can be tailored to the situation. "It can be anything that makes sense to these parties to enable them to end the dispute and move on with their lives or with their business," she says. "I've worked with parties in crafting resolutions they could never get in court." One employer, for example, created a trust fund for the dependent child of an employee with a grievance. Another helped pay for a terminated worker to start a business. 
The Dispute Resolution Process
It's important for both parties to step into the mediation room with an open mind, says Attardo, and "an attitude that says, 'I'm going to listen to the other side. I'm going to think outside of the box and try on some solutions that maybe I never would've thought of.'"
When hiring a mediator, seek recommendations and find one whose personality feels like a good fit for both parties. Are they numbers-oriented and analytical, or intuitive and adept at reading between the lines? Are they free of all conflicts of interest?
The entire process usually takes a few hours. Be prepared to submit a position statement and sign a standard mediation agreement that includes a confidentiality clause—tweeting or posting the terms of the settlement on social media is typically a no-no—before talking to the mediator together, then separately. After further discussion as a group, the mediator suggests ways to solve the problem, and the agreement is put in writing and signed. 
Despite its advantages, mediation isn't right for every situation. It might be too early, with each party stubbornly determined to "win." Or it might be too late, say, if you've already spent so much money in attorneys' fees that you feel the need to keep fighting. It may also be counterproductive if one side harbors an ulterior motive, such as testing the other side to see how the case might play out in court. 
Often, though, the mediator helps just by listening. "I've seen it again and again," Johnson says. "Sometimes the parties themselves don't consciously appreciate what the real barrier is. They just want somebody to hear their side of the story."
For more information on this area of law, see our overview of business and corporate law. If you have a business dispute in Massachusetts, try reaching out to an attorney or law firm experienced in alternative dispute resolution.
What do I do next?
Enter your location below to get connected with a qualified attorney today.
Additional business/corporate articles
Related topics
Attorney directory searches
Helpful links
Find top lawyers with confidence
The Super Lawyers patented selection process is peer influenced and research driven, selecting the top 5% of attorneys to the Super Lawyers lists each year. We know lawyers and make it easy to connect with them.
Find a lawyer near you