Can You Sue a Veterinarian for Malpractice?
In some cases, animal owners may be able to claim damages
By Katrina Styx | Last updated on January 9, 2023
Use these links to jump to different sections: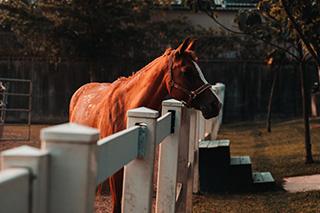 When you put an animal under the care of a veterinarian, you expect that they will take every precaution to ensure the animal's continued or improved health. But what happens when a veterinarian is the source of your animal's injury, illness or death? Depending on your circumstances, you may be able to sue for veterinary malpractice. "Just like any other tort and negligence, an animal owner would have a claim against a veterinarian or a veterinary clinic, whichever is appropriate, assuming they have the evidence to prove it," says
Jay Prather
, a veterinary and equine malpractice attorney at Garmer & Prather law firm in Lexington.
What Types of Cases Qualify?
Vet malpractice claims aren't generally as well understood as
medical malpractice
or
personal injury
claims, and there's a big reason for that: "In Kentucky and I think in most jurisdictions, the general rule is that, because animals are considered personal property or stock, that the only damages available for injury or loss of the animal is the market value of the animal," Prather explains. For most pet owners, the fair market value of their pet simply isn't high enough to warrant the expenses of suing. "While they certainly are entitled to and the law would support a claim, if the damages are going to be limited to the market value—what it is you can sell the dog or the cat or the hamster or whatever it might be—then it's going to be difficult," Prather says. In many of those cases, the cost of the lawsuit would likely far outweigh the damages an owner could recover. If you have an animal that does have significant market value, your case may be more feasible, assuming you have evidence of negligence. Kentucky's horse racing industry provides a good example. "A racehorse that's worth $1 million or half a million dollars, that certainly could justify it," Prather says.
What Damages Can You Recover?
For a veterinary malpractice claim, owners can recover the total value if the animal is lost or the diminution in value if the animal is injured, plus any associated veterinary bills. Damages in a veterinary malpractice lawsuit may include the additional cost of care for animals that survive, or loss of income due to a malpractice incident. "Although lost income arguably would be factored into the value of the horse," Prather notes. There is some precedent in Kentucky for awarding emotional distress damages for the loss of a beloved animal, but any such claim is likely to be an uphill battle. "Those damages are much harder to prove than say the type of mental suffering damage that you would be entitled to after you're injured in a car wreck," Prather says.
Tips for Helping Your Case
Proving a veterinary malpractice case is very much like proving a medical malpractice case. Almost every case will require expert testimony from a qualified veterinarian to establish the standard of care, and the plaintiff will need to provide evidence—usually also through an expert, Prather notes—that the defendant breached or deviated from the standard of care. "And then, of course, that breach had to directly cause damages in order to be able to recover damages, even once you've proven negligence," Prather says. Here are some things owners can do that can help prove their case:
Preserve evidence: This could be emails, photographs, samples of feed or products, or anything else that might be related to your case.
If the animal died, have a necropsy done right away: A necropsy is the animal version of an autopsy. Necropsies can be done by some private veterinarians, at the University of Kentucky or Murray State University, or another lab that works on large animals. "If you're considering litigation and you've had an animal die, it's important to do a necropsy when you have the chance," Prather says. "But you can never replicate that opportunity later once the animal's body is destroyed."
Keep any additional veterinary records: Veterinary records tend to be more abbreviated than human medical records, Prather notes, so any additional records an owner may have could be useful in a case. "That may be as simple as writing out notes or a diary of what happened," Prather says. "The sequence of events while memories are still fresh can be very important."
Prather's first advice for animal owners, however, is to seek an
attorney
 before taking legal action if you believe your veterinary practice has committed malpractice. State law sets a statute of limitations on veterinary malpractice claims. "In Kentucky, you only have one year from the time of injury in most cases to bring a lawsuit, and it takes time to investigate a lawsuit and prepare it, to have a good basis to file it," he says. "So it's imperative to contact a lawyer as soon as possible after you believe you may have a negligence claim." A lawyer will gather the necessary records and other evidence and will ask a qualified expert to review those records and determine if there was a breach of the standard of care. A lawyer may also inquire about damages by contacting an appraiser. For more information on this area of law, see our overviews of
animal law
 and 
medical malpractice
.
What do I do next?
Enter your location below to get connected with a qualified attorney today.
Attorney directory searches
Helpful links
Find top lawyers with confidence
The Super Lawyers patented selection process is peer influenced and research driven, selecting the top 5% of attorneys to the Super Lawyers lists each year. We know lawyers and make it easy to connect with them.
Find a lawyer near you